January 19, 2008
Writers Guild Strike
The Writers Guild strike is entering its 12th week and the union leadership is finding itself faced with a difficult decision - end the strike with a settlement similar to that of the recent Directors Guilds negotiations or to bunker down and prolong the strike.
This is not a fork in the road the union leadership expected to reach. If it is true that every action we take as individuals or as institutions opens the door for more choices then the labor action by the Writers Guild has brought them to a point where either choice they make at this juncture is problematic.
The recent Directors Guild settlement falls short of the demands of the Writers Guild, particularly in addressing the primary issue of new media. Jonathan Tasini, Executive Director of the Labor Research Association points out several problems with the Director's Guild settlement on his blog Working Life:
My take: I think this is really a problem. It goes to the very question of union jurisdiction and what kind of world we will see in ten and twenty years. The DGA only gets jurisdiction over product currently under contract. That means that all non-union work--such as reality shows--will remain outside the new media jurisdiction.

And any work done under those thresholds will not be covered. The industry is precisely moving to a lower-cost structure--doesn't that sound familiar? It's the "kid-in-the-garage" problem--content coming from everywhere and everyone. As I described it in a panel discussion I just spoke at this week, it's similar to the off-shoring of work in manufacturing. You have the world of the WGA, where the standards are decent, with wages, health care and pensions. And, then, you have Big Mediastan--that would be the world where there is no union, where there are no residuals, no pensions, no health care. The above provision agreed to by the DGA seems--seems--to allow the growth of Big Mediastan. As an aside: it is one reason I believe that a critical component of the WGA's future--and that of the Screen Actors Guild--is to focus intensely on organizing the young kids today who are cranking out material using IMovie and other software. The unions have to get those younger--and older people--who are now producing content into the union now so that they don't become this mass of unorganized, low-wage labor that has no connection to the labor movement.

If the WGA agreed to those terms, it would basically be giving up on an important issue: union jurisdiction.
On the other hand, if the Writers Guilds' leadership prolongs the strike they face a serious risk of losing the dispute. As today's NY Times and LA Times articles point out there is pressure within the WGA to put an end to the strike. Some members are beginning to feel that if they can't win in 12 weeks they wont win by holding out one day more.
There are a couple of fascinating aspects to this strike that force us to ask some questions. For one, the Chief Negotiator for the Writers Guild is David Young who was profiled in a Wall Street Journal article a few weeks back:
Mr. Young worked for a time as a plumber after he graduated from college in San Diego. As a union organizer, one of his highest-profile jobs came in the mid-1990s, when he worked for Unite, the garment workers union. Mr. Young helped lead an organizing drive against Los Angeles-based clothing manufacturer Guess Inc. Trying to unionize thousands of low-wage workers, many of them illegal immigrants, Mr. Young led an effort targeting Guess and its local suppliers that continued for several years.
After a series of setbacks the Writers Guild hired Mr. Young to bring his experience in leading aggressive, creative and strategic campaigns pioneered by service & industrial unions in the late 80's, a style of organizing and bargaining that has increased manifold within these unions and now appears to be spilling over to the professional unions.
By all accounts Mr. Young has done a tremendous job in following the "strategic campaign" play book and many have been surprised at the result - The result being great PR, high profile supporters, impressive rank-and-file mobilization and unity between Guild members who are often separated by a wide gulf in terms of pay & prominence. Unfortunately none of this will get the result that is most important - a contract settlement with the types of gains sought by the Guild.
This type of union campaigning has been a real step forward by service and industrial unions because they signify Labor's willingness to retool in the face of new challenges and that when pushed Labor can mount a serious response. Yet the results of these type of campaigns have been mixed, in fact if we use 1990 as a starting point labor union membership has continued to decline in the ensuing 17 years and there have not been many breakthrough collective bargaining agreements or new organizing in that time, despite pockets of success in certain geographic locations and specific industries.
What these types of labor campaigns are missing is economic analysis. By that term I am not implying number crunching. What I mean is that these types of campaigns need to also look at the context & institutional incentive regime within which the campaign takes place. An example - in the WSJ article that profiles Mr. Young they speak about a campaign he worked on for the garment workers union in the 90s:
Trying to unionize thousands of low-wage workers, many of them illegal immigrants, Mr. Young led an effort targeting Guess and its local suppliers that continued for several years.

But the move backfired. The organizing effort failed, and Guess moved most of its California manufacturing jobs to Mexico, costing thousands of jobs. "It's a story of American manufacturing over the last 30 years: If workers try to organize, their jobs are taken away. They're fired by globalization," Mr. Young said last week, reflecting on that effort.
A serious "economic analysis" of this campaign, I believe, would have revealed that the incentives in place for Guess to move were so great that any pressure applied on them would have only hastened the move. An understanding of this could have led to a much different strategy or at least the saving of a lot of time and money.
The same questions can be asked of the Writers Guild's current strategy. There is no question they have built the perfect campaign but have they assessed the incentive regime that is in place which will determine which forks in the road their campaign will lead them to?
January 19, 2008 in Labor Disputes | Permalink | Comments (1) | TrackBack
January 18, 2008
Quitting Nurses Vindicated
The NY State Department of Health has found that 10 nurses who quit en masse did not jeopardize patients.
A state Department of Health inquiry has found that residents at a Smithtown nursing home "were not placed in jeopardy" by the mass resignation of 10 nurses in 2006, a spokesman said.

The health department's findings come less than two weeks before the nurses - all Filipino immigrants - are scheduled for a Jan. 28 trial in Suffolk County on charges of conspiracy and endangering patients in a pediatric ventilation unit at Avalon Gardens Rehabilitation and Health Care Center.
Should workers have the right to quit their jobs? This is ostensibly a free country and supports free markets so how is it that private sector workers who quit their job could be brought up on charges? Is this a form of slavery? If the nurses were unionized could this have been avoided?
January 18, 2008 in Healthcare, Labor Disputes | Permalink | Comments (0) | TrackBack
September 14, 2007
Union Rat Banned!?
Lawrence Township NJ has a local ordinance that bans balloon-type advertisements. A state appellate judge has ruled that this ban also applies to the famous inflatable rat unions use in labor protests.
How is an inflatable demonstration prop the same thing as a balloon-type advertisement?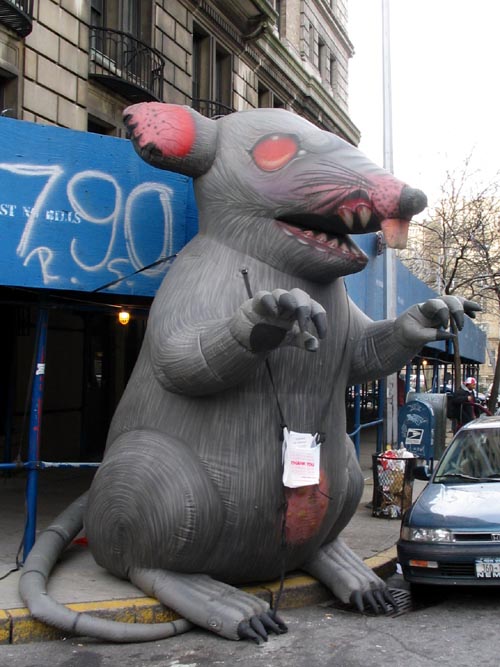 September 14, 2007 in Labor Disputes | Permalink | Comments (1) | TrackBack
October 18, 2005
Interview With Delphi Boss
Yesterday's Wall Street Journal featured an interview with Delphi's boss.
Here is the link and brief excerpt:
Reassembling Delphi (WSJ Subscription Required)
WSJ: Can you elaborate on those forces?

Mr. Miller: Globalization is a fact of life these days. What has been brought into sharp relief is the differing value the global market places on knowledge workers versus basic manufacturing workers. I was struck by what I saw when I visited our Delphi operations in Mexico last week. Our average hourly worker makes about $7,000 a year, while the average salaried worker makes about $35,000 a year. A spread of five times. The same spread, or wider, exists in all low-cost countries. The implications for America are enormous, and it boils down to this. If you want your kids to enjoy the great American dream, get them a good education. The days when manual unskilled labor can deliver a $65-per-hour wage are disappearing.

My recent experiences have been with industries that are undergoing profound change What they have in common is a social contract, worked out over the past half-century with strong centralized labor unions, to elevate their work forces with elaborate defined-benefit retirement programs. Back in the days when you worked for one employer till age 65 and then died at age 70, and when health care was unsophisticated and inexpensive, the social contract inherent in defined-benefit programs perhaps made some economic sense.

Today, defined benefit programs are an anachronism. First off, they force people to stay with one employer, even though we have a much more mobile and flexible population these days. Second, the notion of having all your retirement eggs in one basket -- your employer -- is a concentration of risk that is simply inadvisable for anyone in today's fast-moving economy. Finally, people are living longer these days. Of course, that is a good thing. But the question is, how can we afford it?
October 18, 2005 in Corporate Restructuring, Current Affairs, Economy and Unions, Globalization, Labor Disputes | Permalink | Comments (1) | TrackBack
October 15, 2005
Chapter 11 Weapon
FInancial Times Columnist John Gapper blows the Delphi Chapter 11 wide open in his most recent column. I provide a link and excerpts below:
John Gapper: The Danger of Rewriting Chapter 11 (Financial Times subscription required)
Steve Miller, chief executive of Delphi, was in New York this Monday to explain why he was putting the Michigan automotive parts supplier into Chapter 11 bankruptcy. "We are broke," he said, holding his hands in the air. "I am sorry to be the one delivering that message."

Mr Miller did not look very sorry. In fact, he seemed like someone whose bargaining position with his employees had just become a lot stronger. Instead of having to wheedle unions into accepting cuts in pay and benefits for Delphi's 34,000 hourly-paid US workers, he can threaten them with the company defaulting on its defined-benefit pension plan.
***

Organised labour, meet organised capital. Chapter 11 of the Bankruptcy Code used to be regarded as a bizarre US arrangement allowing a troubled company's managers to stay at the helm and restructure instead of being kicked out by the creditors. Eastern Airlines went into Chapter 11 in 1989 and remained there for two years losing money before collapsing.

These days, managers and creditors are often on the same side from the start. Chapter 11 has become a device for reasserting management fiat over workers with the backing of bankers. Financiers have forced steel industry employees who were used to being highly paid to accept lower wages and fewer benefits. Delphi's Chapter 11 filing suggests Detroit's workers and retirees are next in line.

The way that Delphi is handling its bankruptcy shows how things have changed. David Skeel, a University of Pennsylvania law professor, says the interests of managers and creditors have been aligned by two things: companies are supported – and controlled – with specialist financing and managers are given very large financial incentives to act rapidly and to take tough decisions.
***

All of this carries a price. They say you should not visit a sausage factory if you like eating sausages and in this case the ingredients being ground up for profits are health and (perhaps) pension rights. It does not take a union activist to be disturbed by the prospect of Delphi workers losing benefits that they dedicated their lives to gaining by working there.

The stark contrast between workers' losses and managers' gains was one reason for changes to Chapter 11 in the bankruptcy reforms that come into effect next week. The new law bars companies from paying managers Chapter 11 bonuses and limits the time during which they have the sole right to propose a restructuring plan. Managerial prerogative, as well as wealth, is taking a haircut.
***

October 15, 2005 in Corporate Restructuring, Current Affairs, Economy and Unions, Globalization, Labor Disputes, Unionization/Deunionization | Permalink | Comments (1) | TrackBack
October 11, 2005
Unionized Grocers Move Concerns Union
Albertson's Plan Stirs Union Concerns (San Diego Tribune - Free)
Albertson's is in a major fight with regional supermarket union locals concerned about the struggling company's plans to expand Bristol Farms, its non-union subsidiary.

The 11-store Bristol Farms chain has announced that it will open outlets in the coming months at converted Albertsons sites in La Jolla and in Westchester in the Los Angeles area, a move union officials say will cut dozens of employees from their ranks.....
October 11, 2005 in Economy and Unions, Labor Disputes | Permalink | Comments (1) | TrackBack
September 23, 2005
Struck Hospital Uses Katrina Victims as Scabs
As Nathan Newman states on the House of Labor blog this is just unbelievable:
Katrina Victims Replace Strikers (San Fransisco Chronicle -free)

.."It's such an extraordinary irony,'' said Sal Rosselli, president of SEIU United Health Care Workers West.

"SEIU is sending nurses and psych techs to New Orleans to care for people there. We're engaging the government to establish training programs there for workers who are unemployed."...
September 23, 2005 in Current Affairs, Labor Disputes | Permalink | Comments (0) | TrackBack
September 01, 2005
Business Week Comes Down on AMFA's Northwest Strike
The latest Business Week features a critical article on the strike against Northwest. I provide a link and excerpts below:
This Hardball Union Is Striking Out
This Hardball Union Is Striking Out
The Aircraft Mechanics Fraternal Assn. thrived for decades with tough tactics. But as Northwest is proving, those days are gone
Since founding an airline mechanics union behind the ongoing Northwest Airlines strike four decades ago, labor leader O.V. Delle-Femine has built its membership on a core principle: Make no wage concessions to management. For years that position worked, allowing the Aircraft Mechanics Fraternal Assn. to raid existing unions at such airlines as Southwest Airlines (LUV ) and United Airlines (UALAQ ) to swell its ranks.

Now the Northwest (NWAC ) walkout seems likely to spell the death knell for hard-line labor positions in the troubled airline industry. Many of the mechanics who quit the much larger International Association of Machinists in favor of AMFA's tough approach probably won't get their jobs back. Their likely defeat will reverberate among other unionized airline workers, too, dampening any idea that Delle-Femine's go-it-alone tactics are worth emulating.

Instead, airline workers at most major carriers will continue to face painful wage and benefit adjustments as their employers struggle to cope in a fiercely competitive, loss-plagued industry. The Northwest strike "will cause the collapse of AMFA," predicts Ray Abernathy, president of Abernathy Associates, a Washington (D.C.) consulting firm that advises unions on strategy.

CRAFT POWER. More broadly, AMFA's uphill struggle illustrates just how weakened organized labor has become across the economy. True, airline unions operate under special federal laws that don't apply to auto workers or most other labor groups. But the ease with which Northwest has replaced 4,300 skilled mechanics shows how vulnerable virtually every kind of employee has become.

AFMA has tried to re-create worker clout based on an outdated notion of craft power more suited to the early 20th century than to today's globalized, deregulated economy. "Workers have to organize in bigger unions across whole sectors" or they will fail, says Bruce Raynor, president of UNITE/HERE, the needle trades and hotel workers union.
September 1, 2005 in Current Affairs, Economy and Unions, Labor Disputes, Unionization/Deunionization | Permalink | Comments (0) | TrackBack
August 25, 2005
Two Articles on Northwest Strike
The Detroit News has an important column today on the demise of community support for labor unions which is tied in to the strike going on at Northwest.
Community Turns Blind Eye to Demise of Unions It Spawned
Maybe Michigan -- with its accelerating brain drain and declining job-base -- is becoming the Deep South of the North.

This state, which played a major role in spawning the nation's labor union movement, is now becoming a cutting-edge laboratory for the demise of unions.

What we built here is now getting busted here.

Even that phrase -- union-busting -- that once carried the full-force charge of an epithet has become a mild curse or even, in some circles, a term of approval.

The Teamsters, once the nation's most fearsome union brotherhood, slunk out of the AFL-CIO last month, at once weakening the nation's largest union and drawing attention to the consortium's modern toothlessness.

But the newly energized, modern science of challenging unions is fast becoming a Michigan export.

Frank Vega, who headed the Detroit Newspaper Agency during the 20-month strike that began here in 1995, now wields a publisher title in San Francisco, where his grit and expertise in management of labor relations were deployed in what were tense negotiations at the San Francisco Chronicle.

The San Francisco Bay Guardian, an alternative newspaper, reported July 19 that a memo from the publisher to management employees urged them to "not worry about sleeping quarters or food ... We intend to publish and distribute the Chronicle no matter what."

Ten years after the Detroit newspaper strike, when such hard-boiled tactics still carried the capacity to shock, Northwest Airlines is adopting the pattern without the social heat the newspapers took a decade ago.

Nobody's shocked now.

The pattern is set: Hire replacement workers. Hunker down for the long haul.

And keep flying, no matter what.

Travelers, with tickets in hand, nod and smile and in some cases wish the workers good luck. And then keep walking.

In more halcyon times, labor unions were full partners in Michigan prosperity and social progress: They helped raise much more than wages. They boosted the status of women and minorities, forged a new standard of health and dental care in southeast Michigan that created some of the best hospitals in the country, and bargained contracts that, at the stock market's inflated peak, transformed factory workers into 401K plan millionaires.

Whoosh. As Alice Randall, parodist of the most famous southern novel quipped, "the wind done gone."

Now, though, as the industries that relied on crafts and trades and factory workers dismantle the equipment and lay off workers, a company like Northwest Airlines is fully, extensively prepared to go to battle.

It's got the muscle, the jobs, the determination, and the public relations savvy to cast itself as beleaguered victim of unrealistic union workers. Most important, though, it has the tacit support of a community that no longer rouses itself in outrage -- even here, in a historic labor spawning ground.

Most of us will keep walking. And they'll keep flying, no matter what.
Yesterday's NY Times featured a story on Northwest's scabs:
August 25, 2005 in Current Affairs, Labor Disputes | Permalink | Comments (0) | TrackBack
August 23, 2005
Northwest Finally Admits Strike Problems
For the last couple of days newspapers carried bold headlines stating they are weathering a strike by its mechanics. Tomorrow's Wall Street Journal however is running a cover story on the strike and the problems it has thus far caused for Northwestern.
Northwest Reveals Higher Rate of Cancellations as Strike Persists (subscription required)
Northwest Airlines, lifting the veil slightly on its reliability problems since its mechanics went on strike Saturday, said its flight cancellation rate Monday was roughly triple its rate a year ago.

The carrier said it operated 96.9% of its schedule Monday, suggesting it canceled 46 of its 1,473 scheduled flights that day. Northwest earlier this week said it expects to be able to complete 96% of its schedule in the first week of the strike, which implies it will cancel about 400 flights over seven days.

For all of August 2004, Northwest canceled 490 flights, or 1.1% of its schedule, according to the Department of Transportation. The company has declined to comment on its flight punctuality since the strike, despite the fact that travelers anecdotally are reporting a higher-than-normal number of delays.
August 23, 2005 in Current Affairs, Labor Disputes | Permalink | Comments (0) | TrackBack